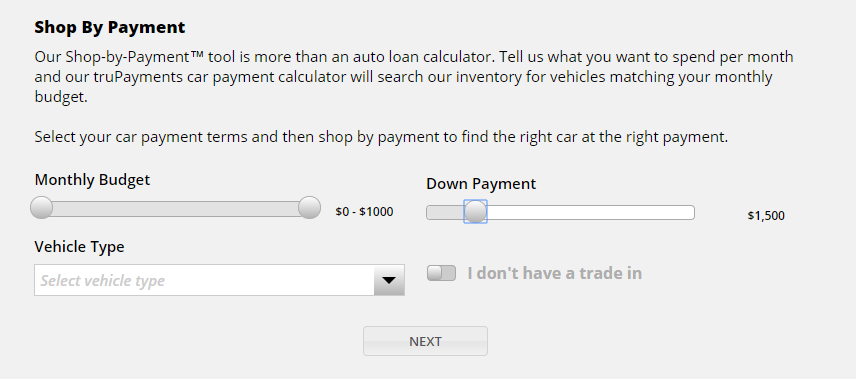 ​
We've all been there: searching the vehicle inventory, finding a few excellent options, and realizing none of them are going to fit the budget. It can be frustrating and really make the car shopping process stressful, which is not what we at Preston Superstore want our customers to experience.
Instead of playing the guessing game of "will this car be too expensive or not", you can use our Shop by Payment tool to cut down on the hassle and hoping!
Unlike other payment tools which you only use after you've chosen a vehicle, this tool allows you to input your budget information and then it provides you with a selection that fits your financial situation. You don't need to provide a lot to get the process going either.
Based off the image above, you can play with the sliders to select a monthly budget range up to $1,000 or a down payment amount up to $9,500. You can also use the drop-down menu to select a variety of body styles you're interested in, and if you have a trade-in you can click that as well.
On the second screen the tool will ask for your name, address, phone and e-mail, and gross annual income, but the information won't be seen by anyone and it won't do anything to your credit score!
If you're ready to feel excited and in control during the car shopping process, make sure you check out our Shop by Payment tool before coming into our Burton, OH location!